We are very grateful to our wonderful judges who generously gave us their valuable input.Thank you Ms Lesley Kehoe (Lesley Kehoe Galleries),
Ms Susan Renouf (Former Adjunct Professor, Fashion & Textiles, RMIT University),
Dr Yoshiho Kobayashi (Associate Professor, Outemon University, 追手門学院大学准教授, President, International Society of Ikebana Studies),
Ms Hiroe Swen (Ceramic Artist, Former Lecturer, Australia National University),
Mr Ken Smith (Artist, Former Lecturer, Monash University),
Dr Osamu Inoue (Associate Professor, Kyoto University of Arts, 京都芸術大学准教授; Vice President, International Society of Ikebana Studies)

Their contribution made this international award, the world's first online Ikebana competition truly unique. It is so rare for Ikebana students to be assessed and to receive comments from art specialists like our judges. Please visit the "Judges" page for their profiles.

We are pleased to announce that the winners of the 2020 Ikebana Galley Gold Award are Kasia, Van K.G. and mBug. The Ikebana Gallery Silver Award 2018 goes to Shang-ying Liu, and the Ikebana Gallery Bronze Award goes to mBug (no.2). Those students will receive a certificate (digital file) from Ikebana Gallery.

Our judges were asked to choose three works out of the five finalists in the order of their preference and the results were as follows:

Ms Renouf: 1. Kasia, 2. mBug(no.5), 3.mBug(no.2)
Dr Kobayashi: 1.Van K.G. 2. mBug(no.5) 3. mBug (no.2)
Ms Swen: 1. mBug (no.5), 2. Shang-ying Liu, 3. mBug (no.2)
Mr Smith: 1. Shang-ying Liu, 2. Van K.G., 3. Kasia
Ms Kehoe: 1. Kasia, 2. Van K.G., 3. mBug (no.2)

We allocated 3 points to the first choice, 2 to the second and 1 to the third. The results were 7 points for Kasia, mBug (no.5) & Van K.G., 5 points for Shang-ying Liu, and 4 points for mBug (no.2).

Following are comments from our judges for each work.

Gold Award: Van Khanh Giang (Hanoi, Vietnam) Ikenobo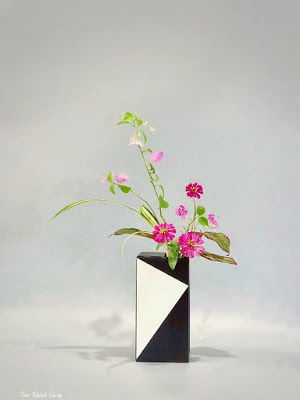 Ms Kehoe: Striking use of colour to contrast with the vessel, contemporary feel.
Mr Smith: This is another, but different, combination of highly contrasting elements: black and white, red and green, man-made and natural.
I am happy and thankful to the organizers for choosing my work for the final round of Ikebana Gallery Award 2020. I am a Vietnamese, and I am participating in Ikebana Club in Hanoi. I am thankful to my mentors – Mr. Mai Van Thai Thomas, Ms. Kawagoe Hana, Ms. Osima and Ms. Nguyễn Thanh Tú - for encouraging me with strong spirit and positive thoughts in every lesson, so that I could make this work. My free-style Ikebono was made with an emotion that "... a negative thought can be replace. Put a positive thought in its place" as a poets once said (Van Khanh Giang).

Gold Award: NGUYEN THI THANH HIEN (Vietnam) Sogetsu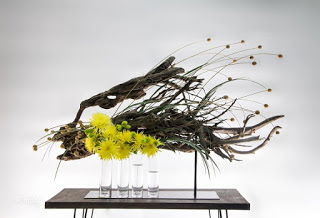 Ms Swen: A feeling of flow is expressed beautifully.
Ms Renouf: Beautiful and evocative form.
I am so happy to be one of the winners of the Ikebana Gallery Award 2020. I am a student of Tokyo Sogetsu, under the online guidance of my dear teacher, Mrs. Ekaterina Sheahaus. She is the one who insprises me everyday with many effective ways from which I can never stop learning though we are far apart. And I was also a student of my dear offline teacher – Dr. Shoso Shimbo – who has plenty of creative ways to help his students get more confident and know how to improve themselves. I would like to say thanks you to my dear teachers for sharing with me their passion, inspiration and love for ikebana.
"A new journey from the end" is the message from my arrangement, and also is the story, the slogan of my art and craft manufacturer, Lua Decor. I used a big driftwood as the main material with the passion of awakening the life and the beauty of the wood that are no longer green. Nothing stops forever, new life will begin when we have enough love and aspiration.
(NGUYEN THI THANH HIEN, Founder @ Lũa decor Art and Craft Manufacturer. www.luadecor.vn )
Gold Award: Kasia Purton-Dmowski (London)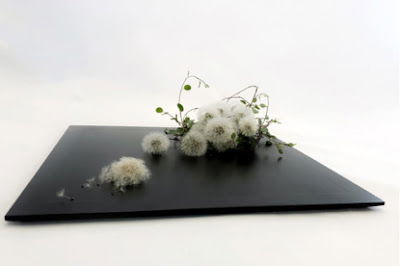 Ms Kehoe: Innovative, bold move away from 'the vessel'
Ms Renouf: Delicate, and a great lightness of spirit.
Mr Smith: This is notable because of its use of a horizontal platform to enhance the implication of wind gently blowing through the dandelion forms.
I am most humble and delighted to have received such accolade and would like to thank you for posting and recognizing my work and to all the judges for their valuable time and expertise. To receive comments and appreciation from such a list of esteemed adjudicators it's a huge honor indeed.

I am also thankful that my life path crossed with Ikebana art which opened my eyes to the beautiful nature world around. I am sure that all my Ikebana friends will agree that once you enter this art door you will never look at your surroundings and natural world with the same eyes again, every detail seems to have new meaning and the emotional connection it's even more profound.

My story about the dandelion piece truly reflects this concept and ideology. The composition was inspired during COVID 19 lockdown while wondering around through the English fields surrounding my home and seeing the beautiful dandelions emerging through the grass. ThIs simple encounter was incredibly evocative with huge dose of melancholy, both reminding me of the happy childhood times when the little seed heads were just a magical joy plus striking the feeling of fragility and transient aspect of everything around and true connection to humanity itself, especially during the times that the world finds itself at the moment.

I am so thankful to my teachers, to my Sogetsu London branch for their friendly arms around me, to all the master teachers that I was privileged to see at work and to all my online ikebana community which brings me daily joy, amazement and inspiration. Your kind recognition of my work gave me new invigorating motivation and energy to look at the world even closer with sensitivity. Congratulations to everyone that took part, I am looking forward to be inspired by your posts every day.
Silver Award: Shang-ying Liu (Taiwan)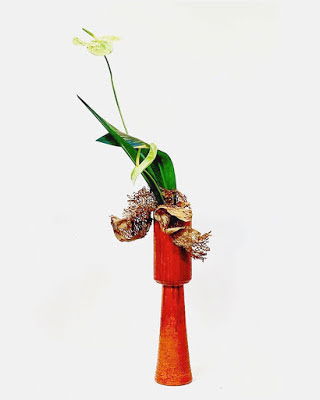 Mr Smith: This arrangement is a dramatic and arresting combination of both colour (red and green) and form (geometric and organic).


Bronze Award: NGUYEN THI THANH HIEN (Vietnam)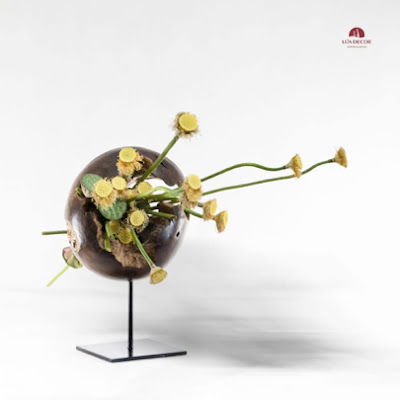 Ms Renouf: A striking use of the main element.
Congratulations to the winners. If you have not received your certificate, please send an email to ikebana.gallery@gmail.com. Thank you. Thank you to all the Ikebana students who have shared their works on Facebook page. Thank you also to our committee members. We are looking forward to receiving more images of your works for the Ikebana Gallery Award 2021.
Our next entry period is from 24 to 30 September 2020. It is the first entry period for the Ikebana Gallery Award 2021.