First, we are very grateful to our wonderful judges who generously gave us their valuable input.
Thank you Ms Lesley Kehoe (Lesley Kehoe Galleries),
Ms Susan Renouf (Former Adjunct Professor, Fashion & Textiles, RMIT University),
Dr Yoshiho Kobayashi (Visiting Researcher at Ritsumeikan University, 立命館大学客員研究員; Senior Adviser, International Society of Ikebana Studies),
Ms Hiroe Swen (Ceramic Artist, Former Lecturer, Australia National University),
Mr Ken Smith (Artist, Former Lecturer, Monash University),
Dr Osamu Inoue (Associate Professor, Kyoto University of Arts, 京都芸術大学准教授; President, International Society of Ikebana Studies)

Their contribution made this international award, the world's first online Ikebana competition truly unique. It is so rare for Ikebana students to be assessed and to receive comments from art specialists like our judges. Please visit the "Judges" page for their profiles.
We are pleased to announce that the winners of the 2020 Ikebana Galley Gold Award is Kateryna Bilotserkovetsre. The Ikebana Gallery Silver Award goes to Lidia Poklyatska, and the Ikebana Gallery Bronze Award goes to Sabena Cheong. Those students will receive a certificate (digital file) from Ikebana Gallery.

Our judges were asked to choose three works out of the five finalists in the order of their preference and the results were as follows:

Ms Renouf: 1. Kateryna, 2.Katerina, 3.Isabel
Dr Kobayashi: 1.Kateryna, 2. Sabena, 3. Lidia
Ms Swen: 1. Kateryna, 2. Lidia, 3. Katerina
Mr Smith: 1. Sabena, 2. Lidia, 3. Katerina
Ms Kehoe: 1. Isabel, 2. Kateryna, 3.Lidia

We allocated 3 points to the first choice, 2 to the second and 1 to the third. The results were 11 points for Kateryna Bilotserkovets, 6 points for Lidia Poklyatska, and 5 points for Sabena Cheong.
Following are comments from our judges for each work.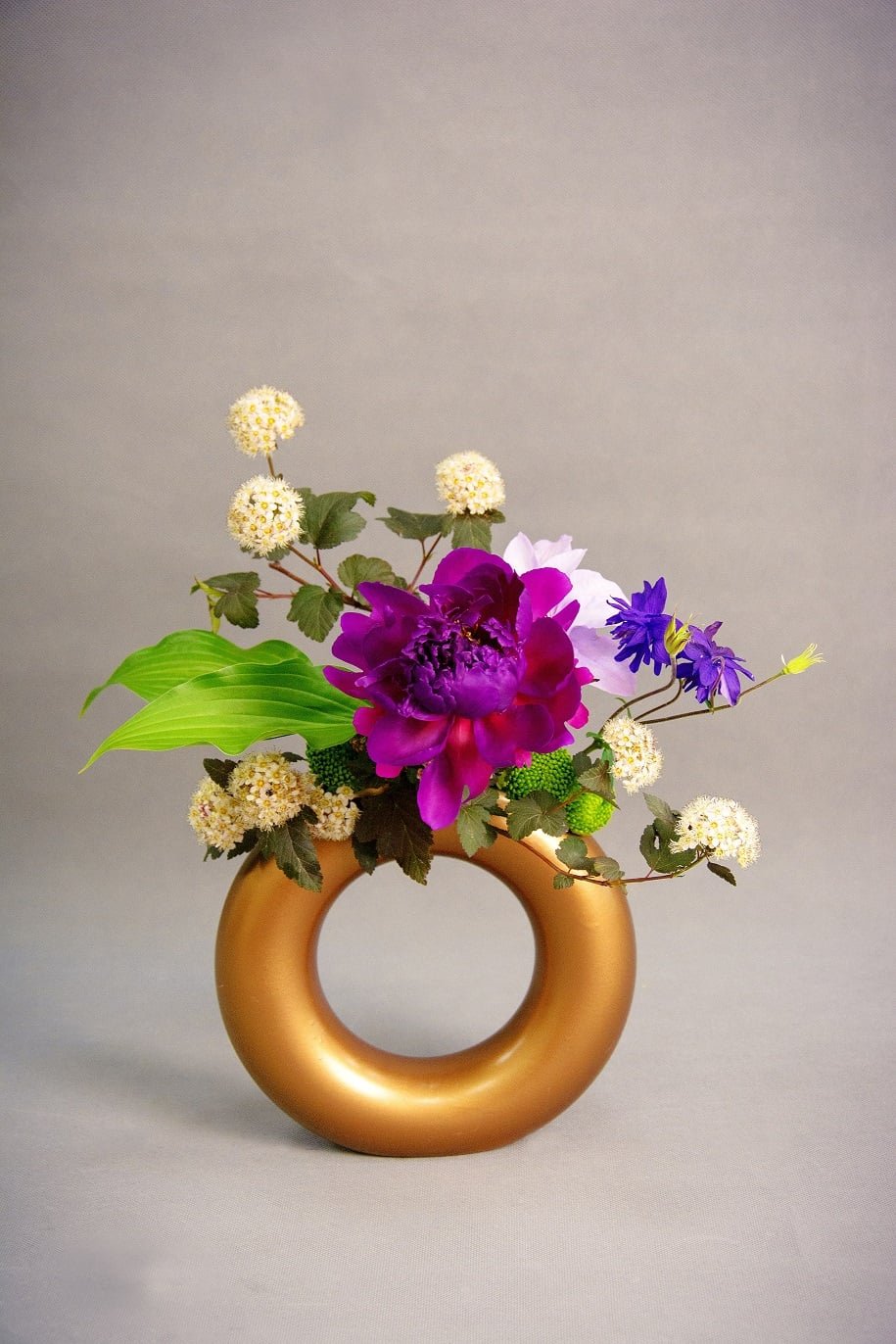 ↑ Kateryna Bilotserkovets (Ukraine)
Ms Renouf: This has instant visual appeal - the unusual vessel, the delicate but fabulous colour balance of the flowers, the gentle bend of the stems creating a line from the left to bottom right .
Ms Swen: Skilful combination of colours and forms of the flowers on top of the oxidized golden ring container. Refreshing & brilliant.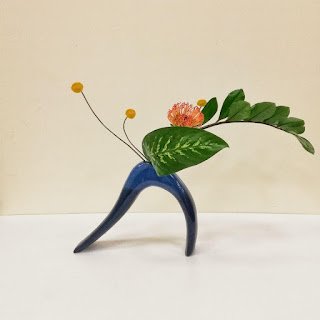 ↑ Lidia Poklyatska (Ukraine)
Ms Swen: Interesting combination of flower & container. Looks like a dancing person.
Mr Smith: Here there is a powerful dialogue between the support and the selected plant forms and all these elements use contrasts of line, colour, shape and proportion to create a lively but highly focussed arrangement.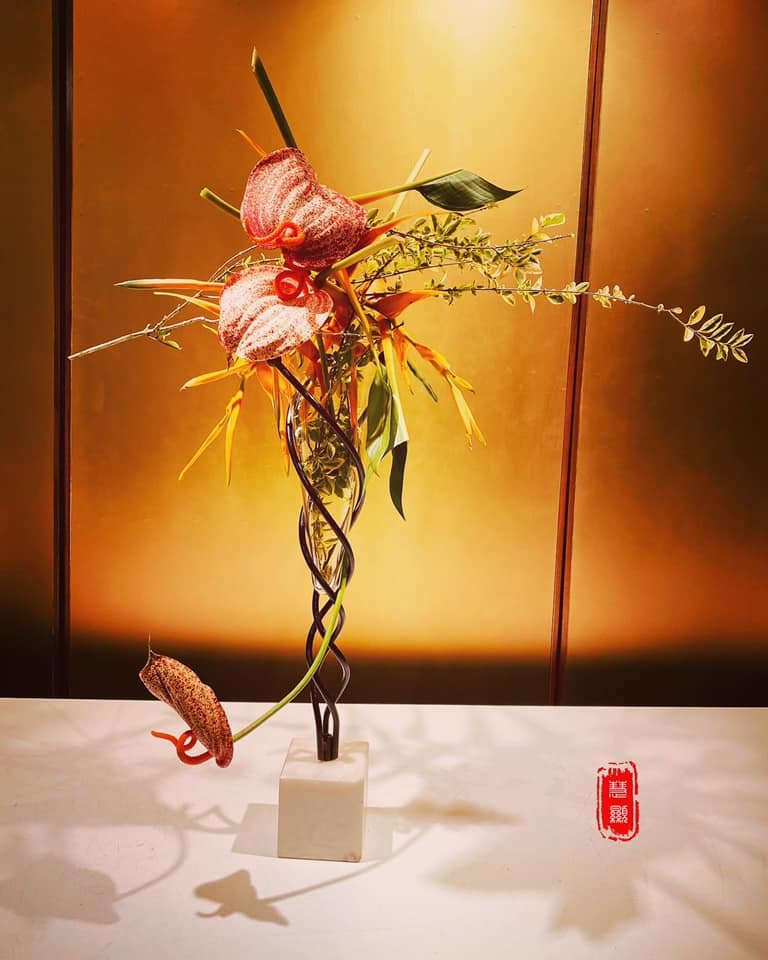 ↑ Sabena Cheong (Hong Kong)
Mr Smith: This is a very confident organization of a diverse array of plant and constructed forms designed around a strongly implied sense of arrested motion. The richness of the colour harmony and the detail within individual components enhances the evocation of a flamboyant drama.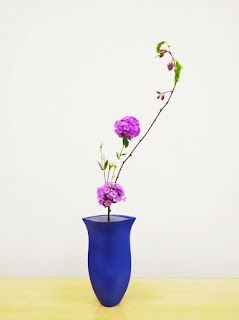 ↑ Katerina Baranova (Ukraine)
Ms Renouf: This is at the other end of the spectrum - traditional and linear. It is an aesthetic delight, simple and evolved on the one shapely branch.
Mr Smith: This composition uses a predominant colour harmony of blue, violet and pink balanced by the surprise of a few small green accents. It is a delicate and refined arrangement that almost defies gravity, like a ballet dancer on point.
Ms Swen: Harmonious combination of clean line, flower & colour of the container.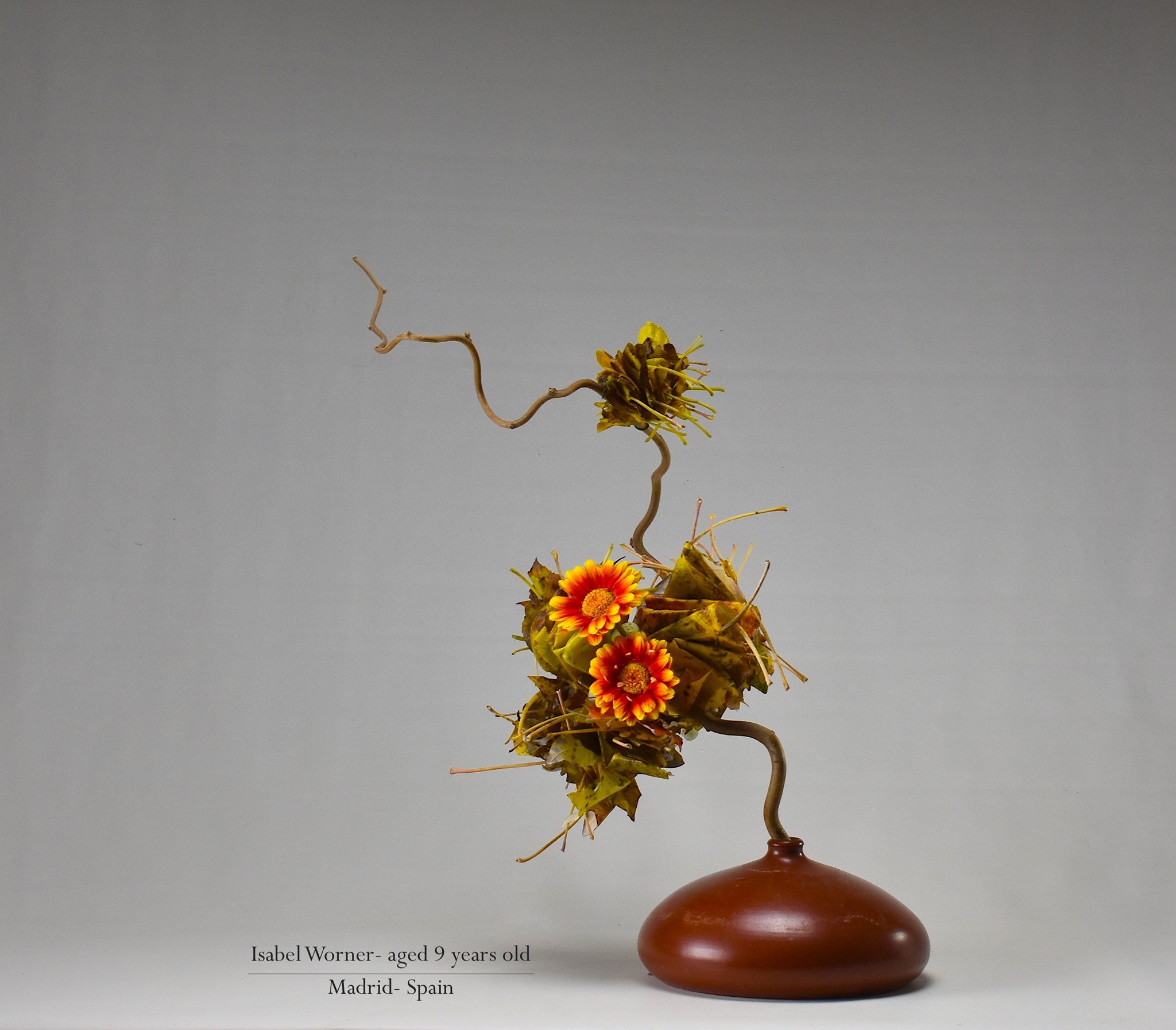 ↑ Isabel Worner (Spain)
Ms Renouf: Attractive and innovative - whilst following the norms of Ikebana, with the well moulded branch showing off the autumnal leaves and flowers, this shows enormous promise from one so young.
Ms Kehoe: Entry 3 is inspirational and would be so without mentioning the age of the creator. In fact, I think this is unnecessary, perhaps could be added after the results. It is such a beautiful interpretation of ikebana: vessel, flora, colour, shape, texture, balance, asymmetry - evoking autumn and its richness. I am thrilled to be part of this.
Walking in the sunshine early this morning and noting the daffodils in Queen Victoria Gardens, I was reminded of the ikebana entries 3 and 1 (Kateryna Bilotserkovets), of what might be seen as manifestations of the soul of Autumn and Spring. And that took me to recollections of the competition in Genji Monogatari between Spring and Autumn and Akikonomu and Lady Murasaki and the poetry. These two works so beautifully express the energy of each season, I was thinking how hard to separate them, each has its own beauty and distinct energy.
Congratulations to the winners (gold, silver, bronze & people's choice award). To request your certificate, please send an email to ikebana.gallery@gmail.com. Thank you.
Thank you to all the Ikebana students who have shared their works on our Facebook page. Thank you also to our committee members.
We are looking forward to receiving more images of your works for the Ikebana Gallery Award 2022. Our next entry period is from 24 to 30 September 2021. It is the first entry period for the Ikebana Gallery Award 2022.