First, we are very grateful to our wonderful judges who generously gave us their valuable input.
Thank you Ms Lesley Kehoe (Lesley Kehoe Galleries),
Ms Susan Renouf (Former Adjunct Professor, Fashion & Textiles, RMIT University),
Dr Yoshiho Kobayashi (Visiting Researcher at Ritsumeikan University, 立命館大学客員研究員; Senior Adviser, International Society of Ikebana Studies),
Ms Hiroe Swen (Ceramic Artist, Former Lecturer, Australia National University), and
Dr Osamu Inoue (Associate Professor, Kyoto University of Arts, 京都芸術大学准教授; President, International Society of Ikebana Research)

Their contribution made this international award, the world's first online Ikebana competition truly unique. It is so rare for Ikebana students to be assessed and to receive comments from art specialists like our judges. Please visit the "Judges" page for their profiles.
We are pleased to announce that the winners of the 2022 Ikebana Galley Gold Award are Nguyen Thuha & Chi Kim Vu, and the Ikebana Gallery Bronze Award goes to Masliennikova Lilia. Those students will receive a certificate (digital file) from Ikebana Gallery.

Our judges were asked to choose three works out of the five finalists in the order of their preference and the results were as follows:

Ms Renouf: 1. Chi Kim Vu (1), 2.Nguyen Thuha, 3.Le Hong Hanh
Dr Kobayashi: 1.Chi Kim Vu (2), 2. Le Hong Hanh, 3. Masliennikova Lilia
Ms Swen: 1. Nguyen Thuha, 2. Masliennikova Lilia, 3. Chi Kim Vu (1)
Ms Kehoe: 1. Chi Kim Vu (1), 2. Nguyen Thuha, 3.Masliennikova Lilia

We allocated 3 points to the first choice, 2 to the second and 1 to the third. The results were 7 points for Chi Kim Vu and Nguyen Thuha, and 4 points for Masliennikova Lilia.
Following are comments from our judges for each work.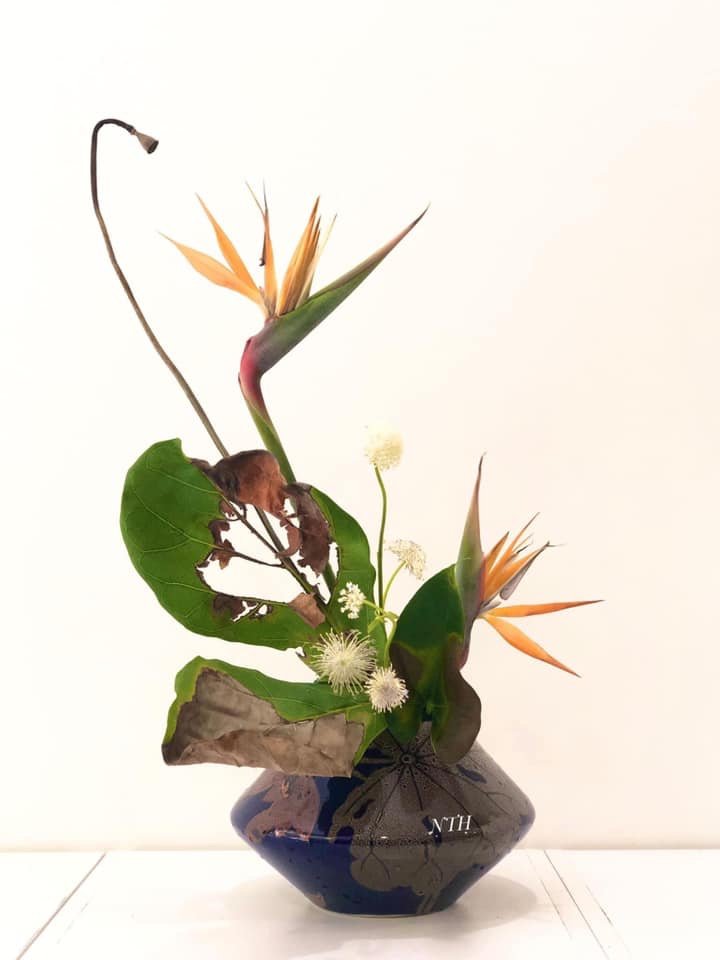 ↑ Nguyen Thuha (Vietnam)
Ms Renouf: The Strelitzia (Birds of Paradise) are such a lovely choice, and the simple treatment sets them off beautifully.
Ms Swen: Very powerful and vigorous. This is a confident creation, but choose your container more carefully.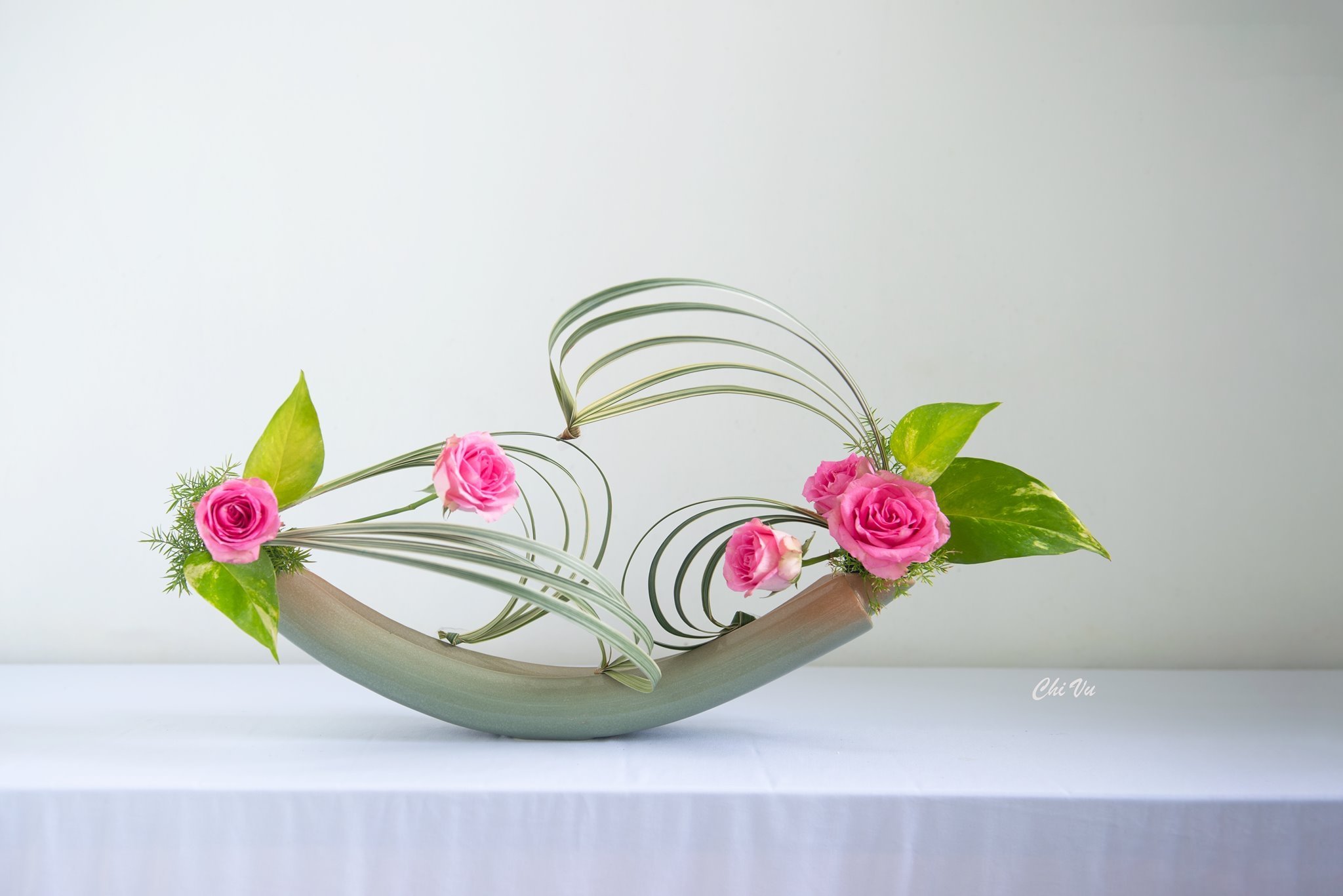 ↑ Chi Kim Vu (Vietnam)
Ms Swen: Refreshing and gorgeous sense of rhythm. Flowers and container are united well.
Ms Kehoe: Number 1 has done a beautiful arrangement creating movement with a static display, colours and texture are superb.
Ms Renouf: I love the fluidity of this piece, and the pure, simple colours.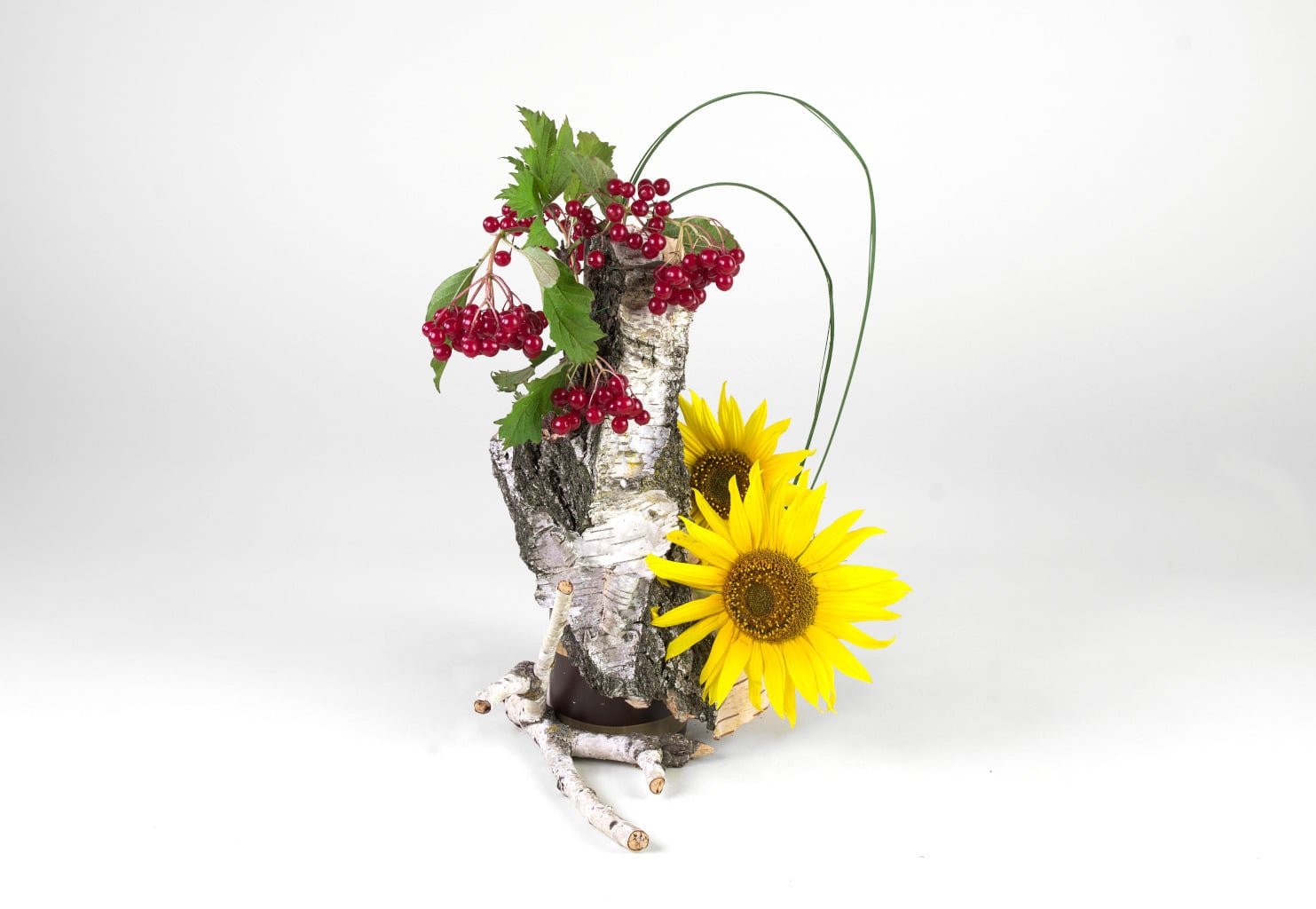 ↑ Masliennikova Lilia (Ukraine)
Ms Swen: A tree trunk is used like a Ikebana container. Overall form is unique and beautiful.
Ms Kehoe: Number 5 is an excellent expression of a quite different culture.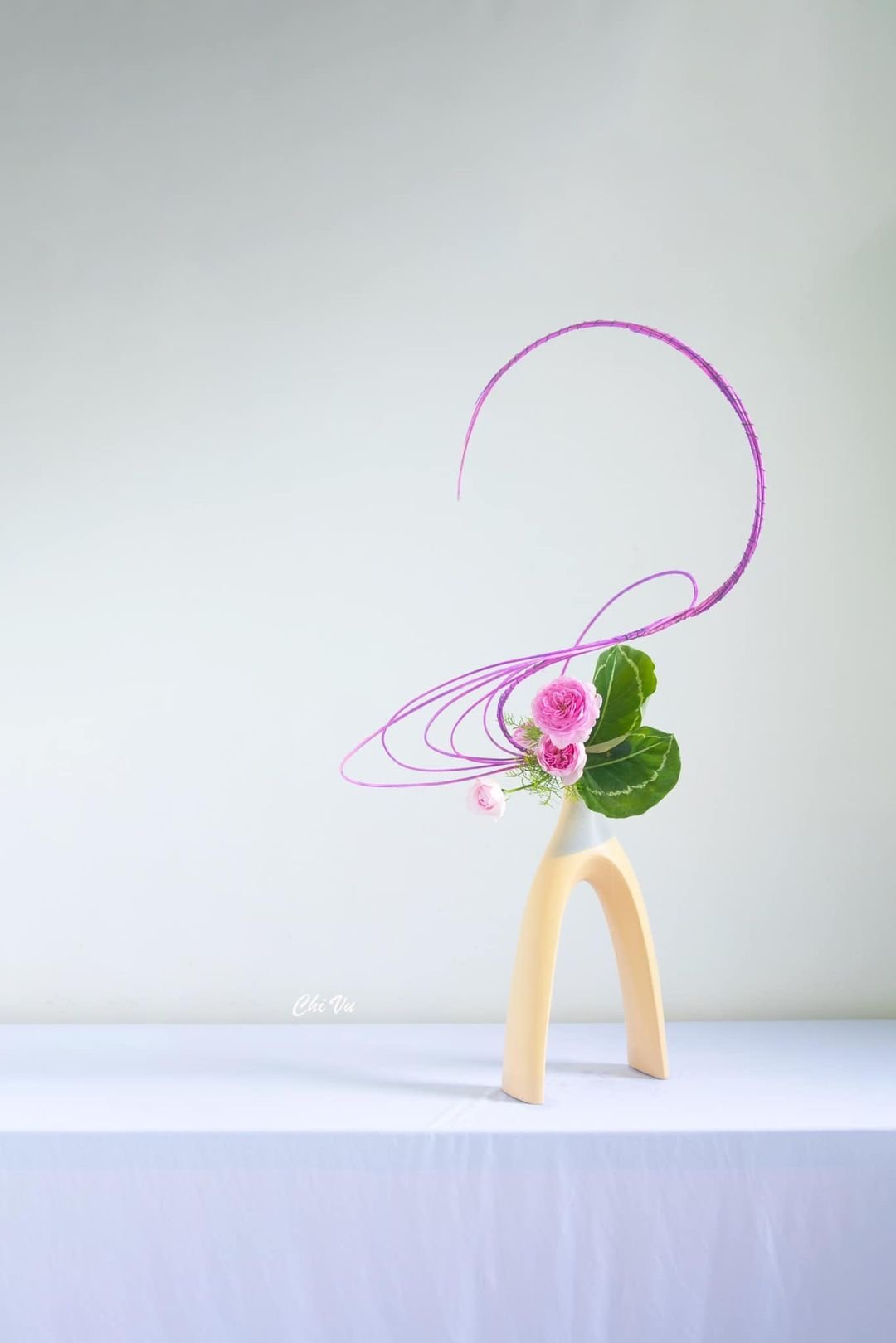 ↑ Chi Kim Vu (Vietnam)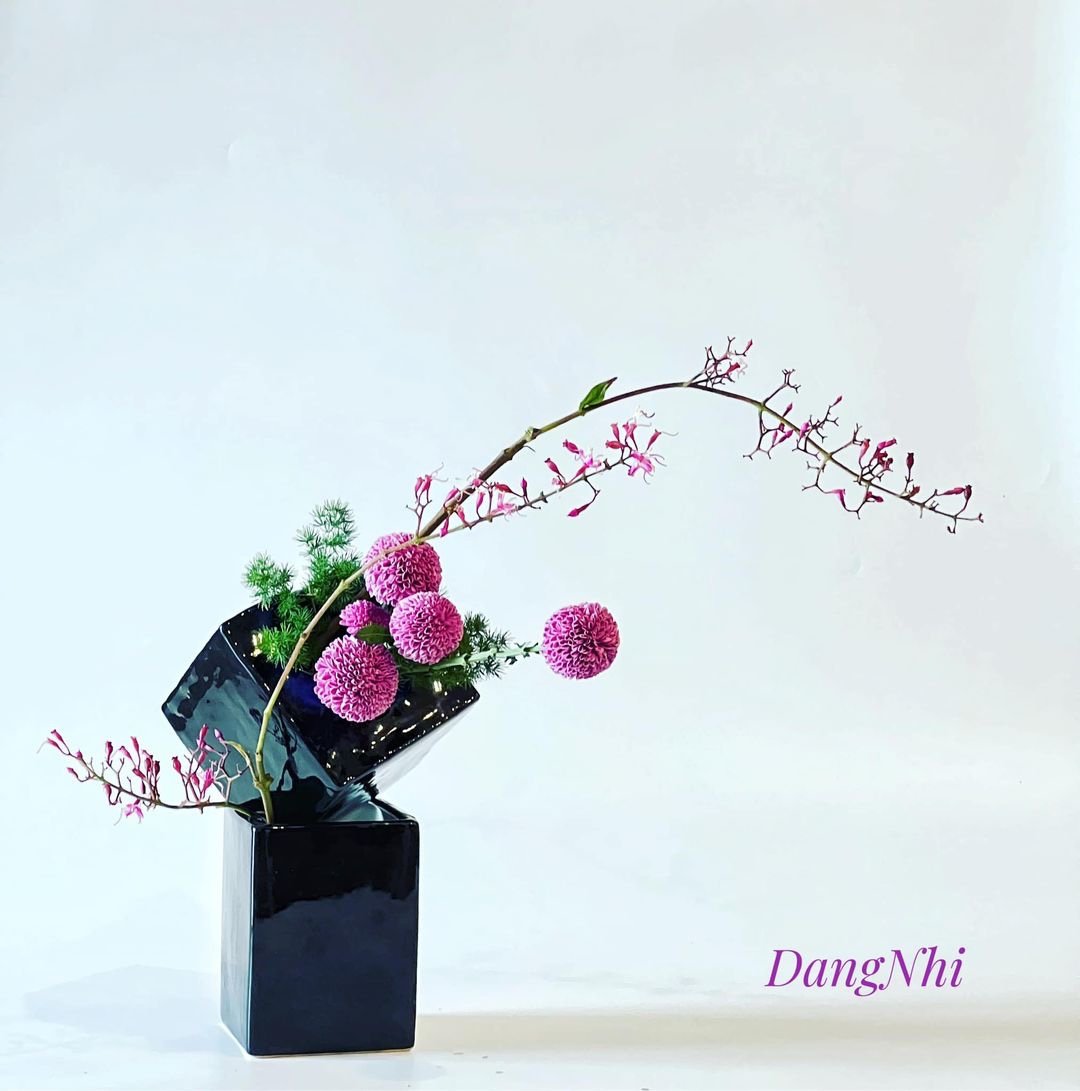 ↑ Le Hong Hanh (Vietnam)
Ms Renouf: The selection of receptacle is modern and interesting, and the flow of the arrangement is superb. It gets harder and harder to choose. Congratulations to you and to all the entrants.
Congratulations to the winners (gold, silver, bronze & people's choice award). To request your certificate, please send an email to ikebana.gallery@gmail.com. Thank you.
Thank you to all the Ikebana students who have shared their works on our Facebook page. Thank you also to our committee members.
We are looking forward to receiving more images of your works for the Ikebana Gallery Award 2023. The entry period is from 24 to 30 June 2023. We will have only one entry period for the Ikebana Gallery Award 2023.