Thank you all the Ikebana students who contributed this quarter.
The Ikebana Gallery Award Committee is pleased to announce that the following works have been selected as semi-finalists of the Ikebana Gallery Award 2021 for the June 2021 quarter.
Congratulations to the students whose works have been selected for the semi-final. If you have not sent us your details and a list of materials for your work (check our Award page), please contact us soon. If we don't hear from you, your work may not be considered for selection for the finalists. Please also contact us if you have been selected but you are not eligible for this award.
In August 2021, the finalists will be selected from all of the the semi-finalists' works, and will be sent to our special judges.
Semi-finalists: March 2021 Quarter
Semi-finalists: December 2020 Quarter
Semi-finalists: September 2020 Quarter
The winner of the Ikebana Gallery Award 2021 will be announced on this website and Ikebana Gallery Facebook page in August 2021.
We will accept entries for the Ikebana Gallery Award 2022 four times a year. The first period to enter is from 24 to 30 September 2021. We hope to receive more of your works toward the Ikebana Gallery Award 2022.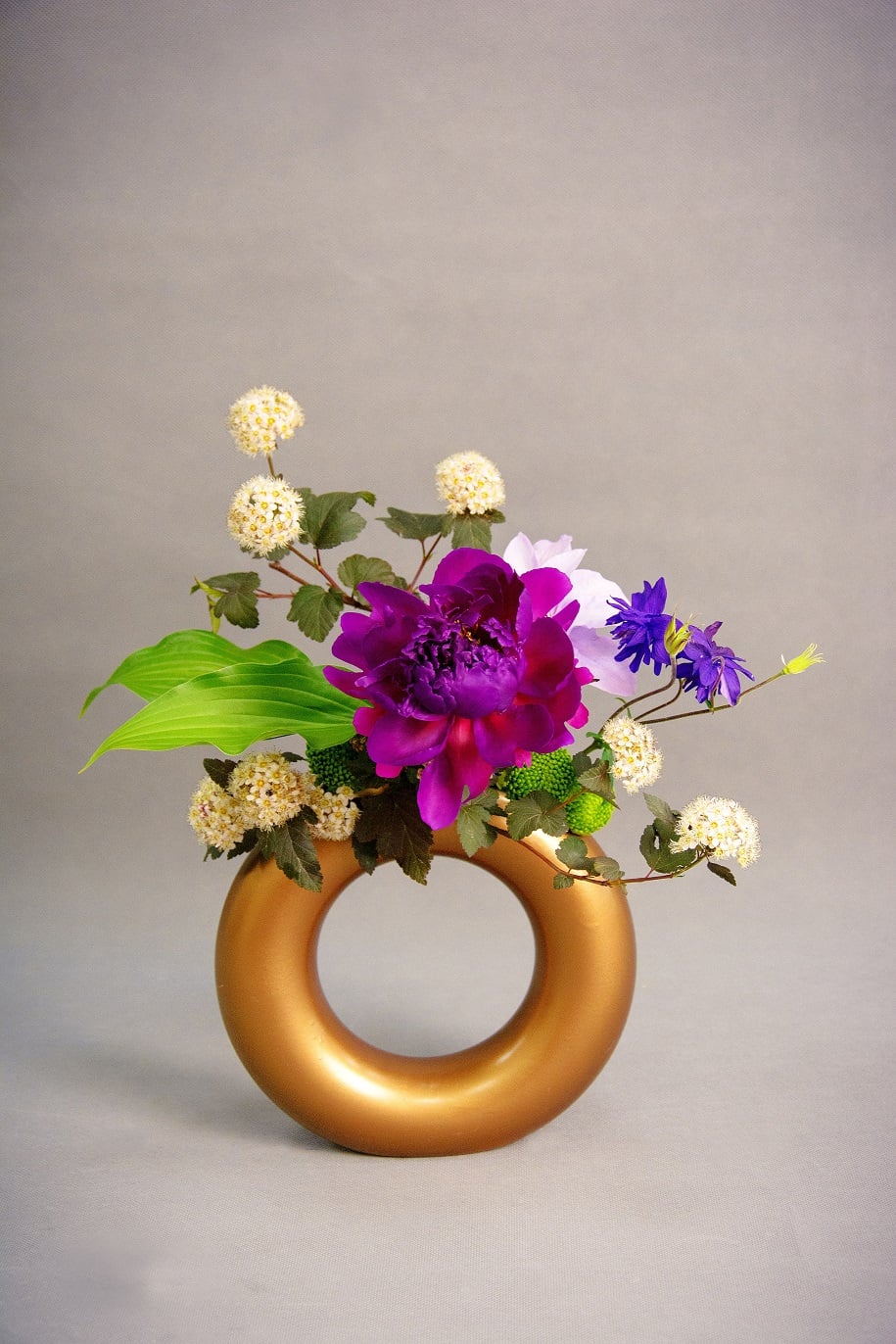 Name: Kateryna Bilotserkovets. Adress: Kyiv, Ukraine. School: Ikenobo Eastern Europe chapter. Teacher: Hanna Nazarenko. Peony splendor in May, freestyle (jiyuka)Materials: Paeónia, Physocarpus, Hósta, Aquilégia, Chrysanthemum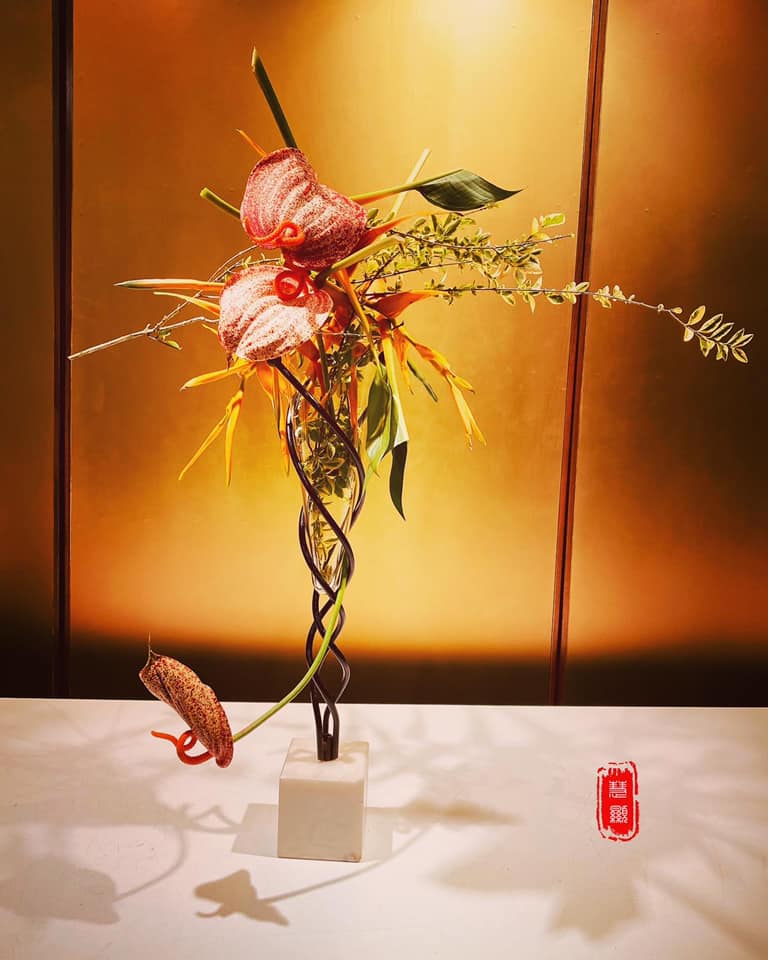 Name: Sabena Cheong. Country: Hong Kong. School: Sogetsu School. Teacher Name: Ho Hin Shing. Material: Anthurium / Ligustrum Punctifolium / Heliconia Metallica. Description: Heliconia Metallica as the structure and using Anthurium create an interesting design with the vase.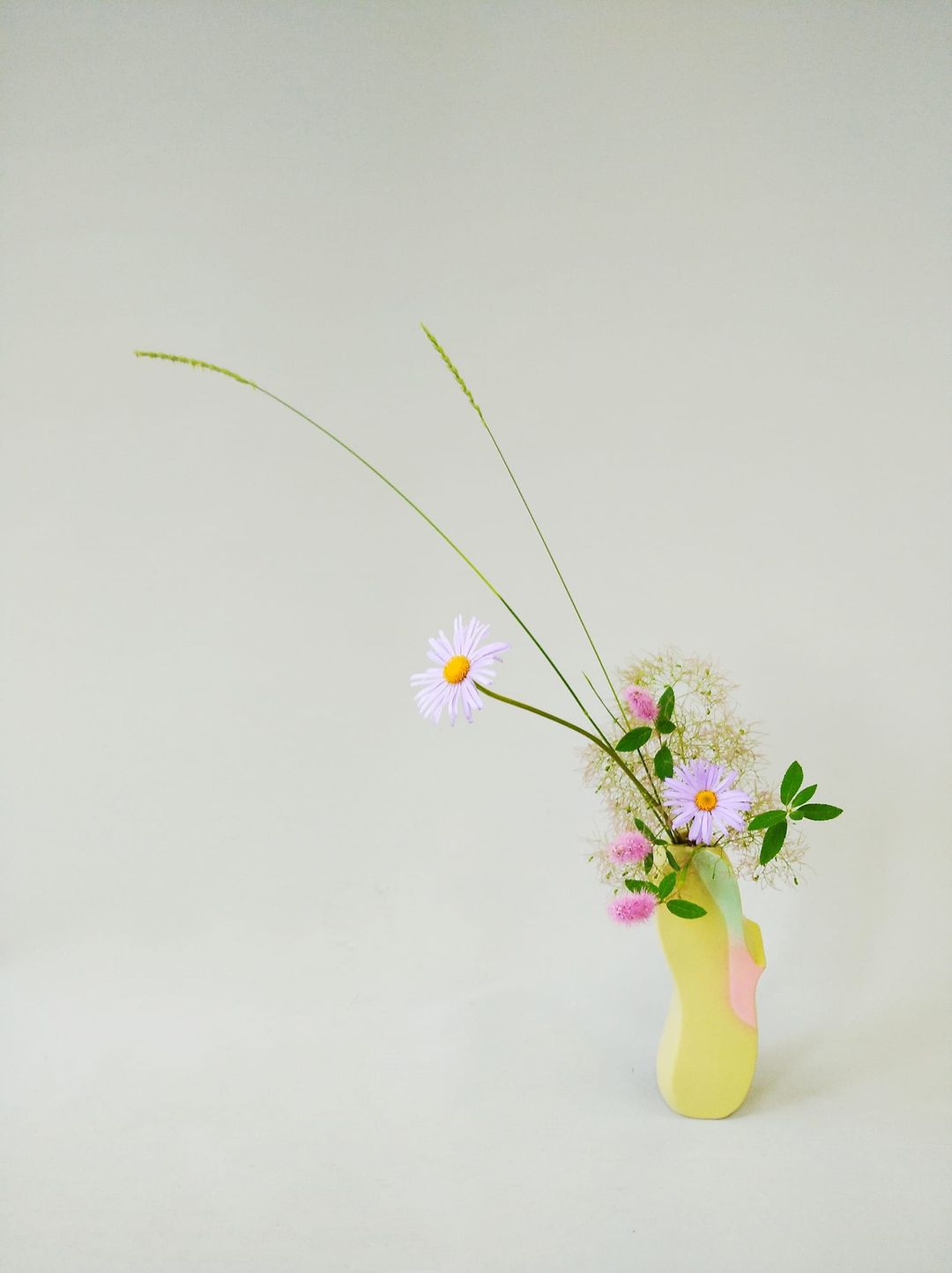 School: Eastern Europe Ikenobo Chapter (Kyiv, Ukraine). Teacher: Olena Kapranova. Student: Kateryna Baranova. Jiyuka, material: chamomilla, spiculae, cotinus, spiraea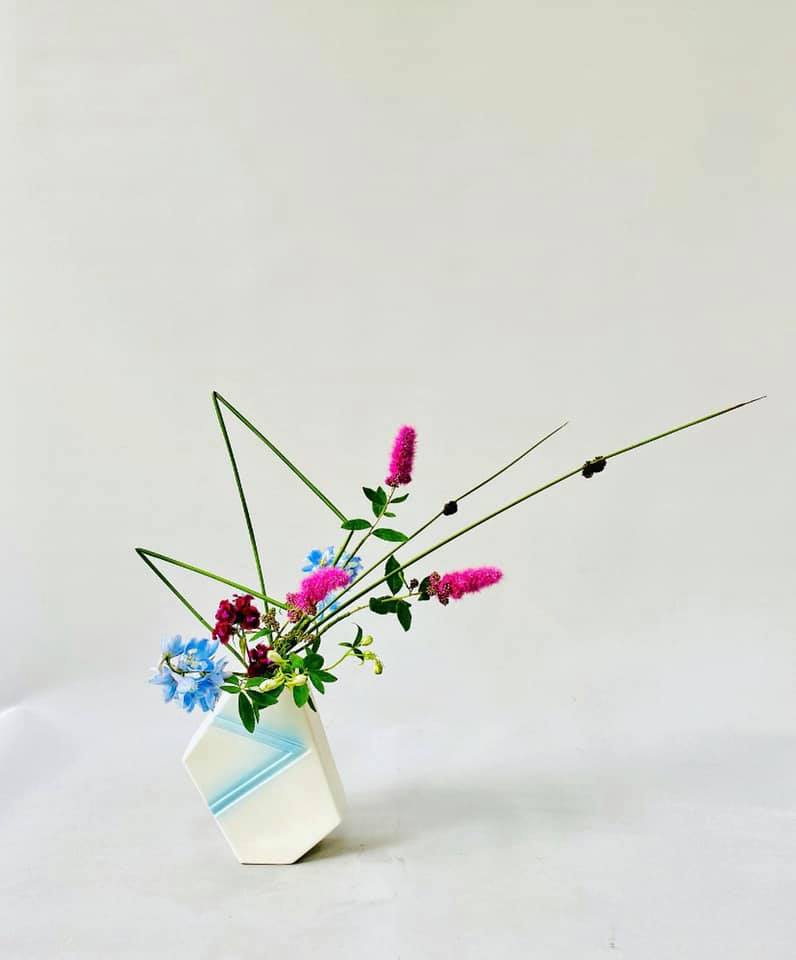 School: Eastern Europe Ikenobo Chapter (Kyiv, Ukraine). Teacher: Olena Kapranova. Student: Tetyana Sharapova. Jiyuka / Material: Delphinium, Dianthus barbatus, Equisetum hyemale, Aquilegia, Spiraea tomentosa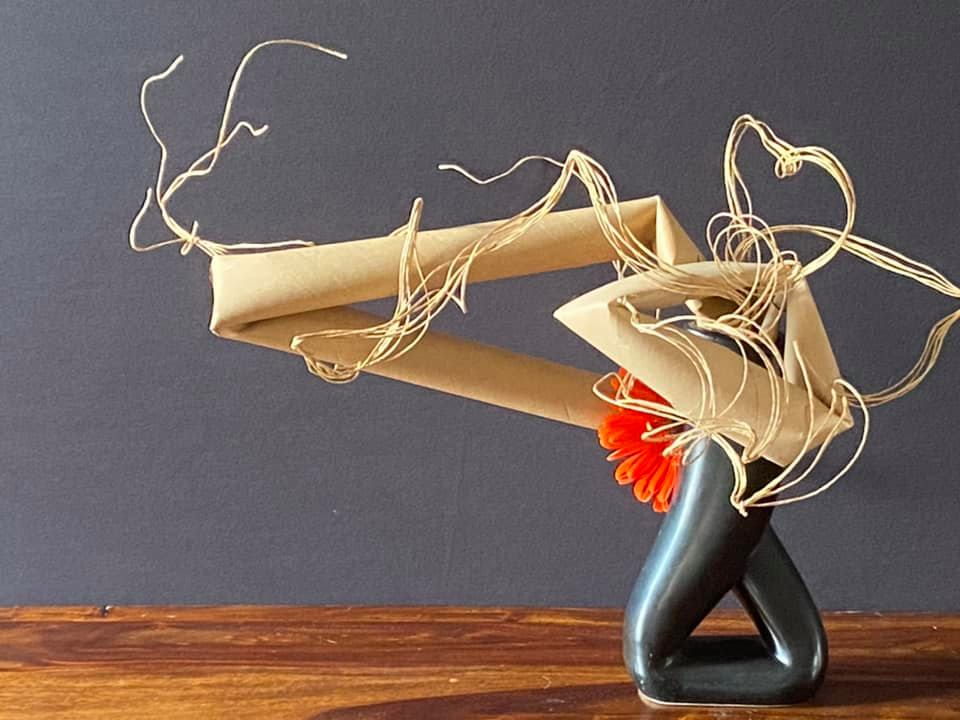 Susan Healey Sogetsu Australia
Comments: Interesting use of non conventional material to extend the design of the vessel. Soft lines to create movement and balance.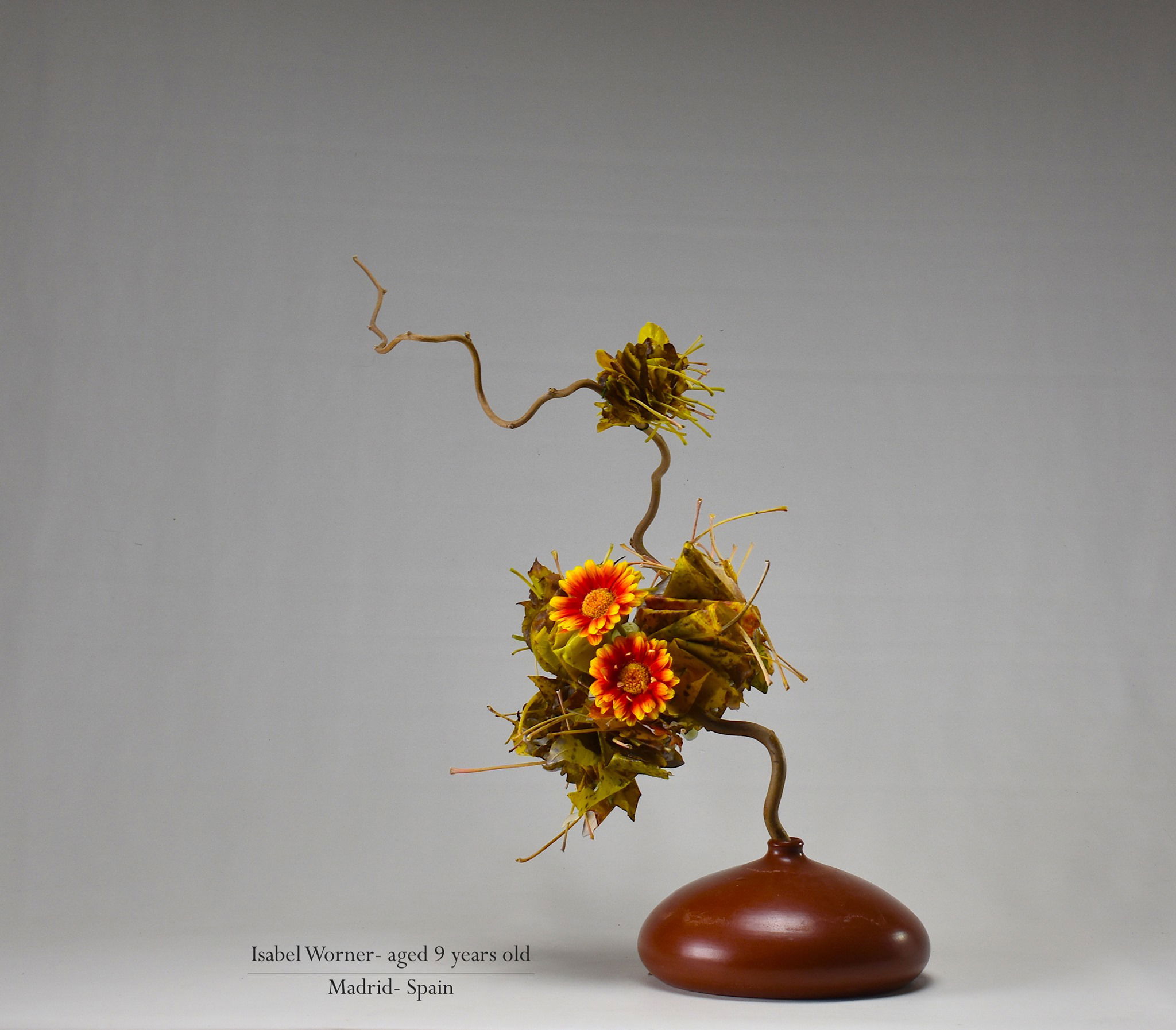 Name: Isabel Worner (aged 9 years old). School: Sogetsu-ryu. Country: Madrid, Spain. Theme: Fresh and dry material. Teacher: Louise Worner.
Comments: Beautiful colour coordination; this is a great piece that embodies the essence of ikebana aesthetics - tension, balance, mass and line, spacing, movement, and fixing techniques. Clever use of 2 Gerberas , breaking the odd number rule effectively . Lively.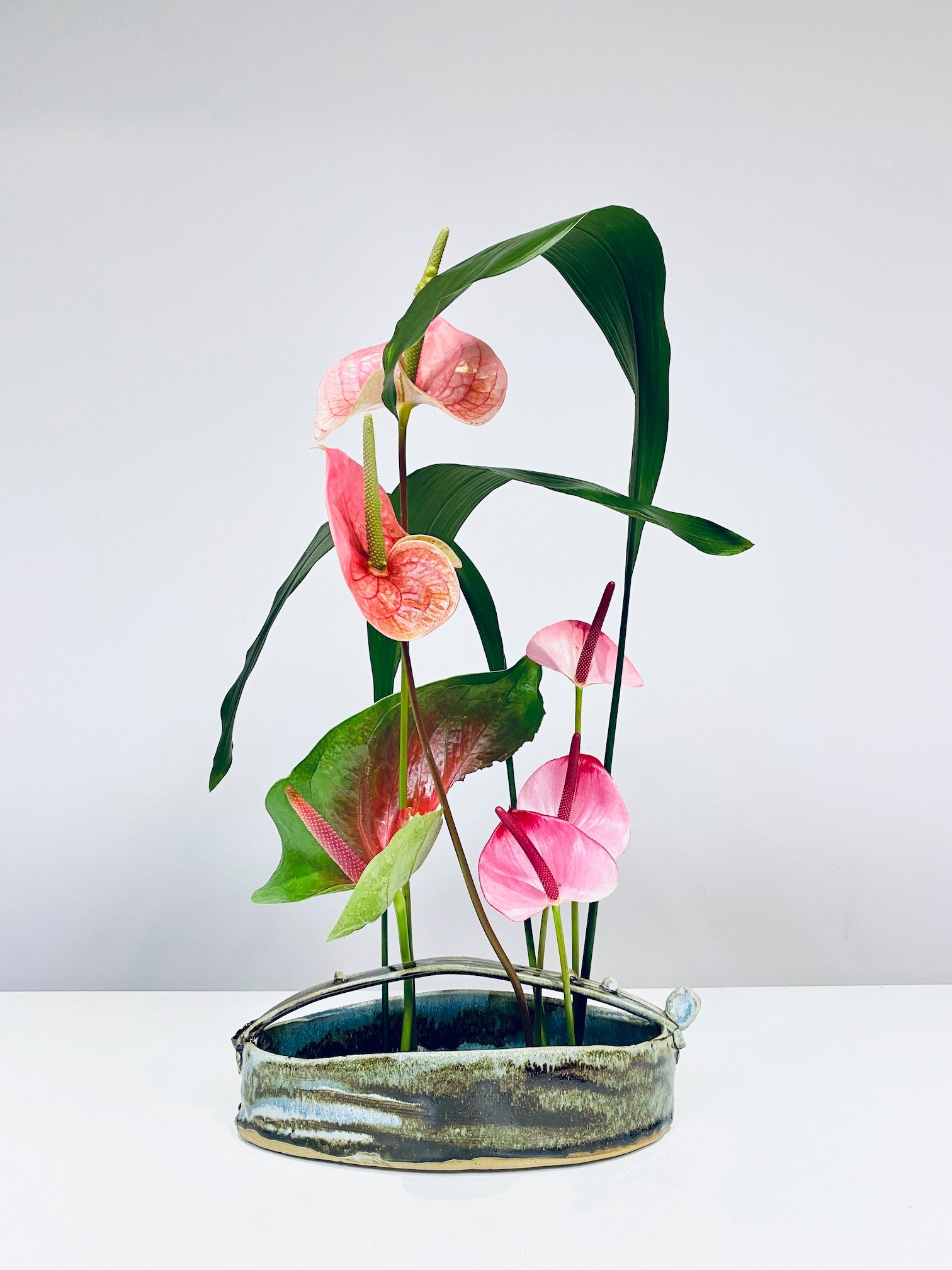 Name: Lam Tan Lei (Ani). Address: Hong KongIkebana school: The Sogetsu school of Ikebana. Teacher: Ho Hin Shing. Material:Anthurium, Aspidistra elatior.
Comments: Ikebana echoes the shape of the vessel, a nice , neat, and tranquil upright design. Refreshing.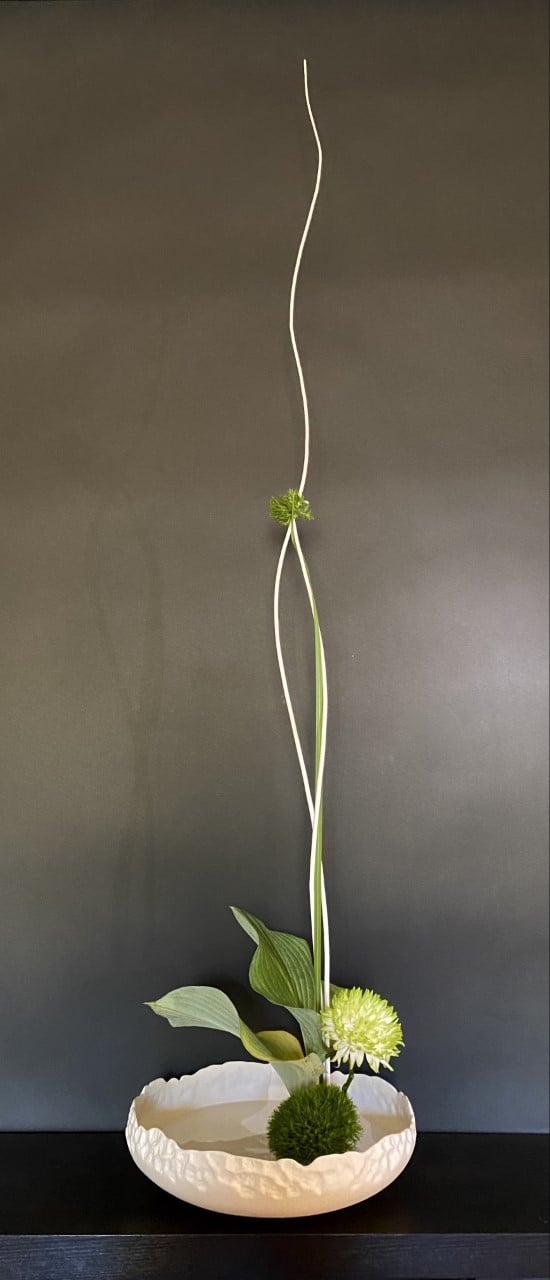 Author: Cristiana Bertoldi, Tucson, AZ, USA. School: Sōgetsu. Teacher: Ekaterina Seehaus. "Concert of Greens" Mum, Dianthus barbatus, Horta leaves, Iris leaf.
Comments: Simplicity says it all. Great choice of materials - harmonising with the vessel. Absolutely love the hyperextension of a thin material, drawing eyes to interesting focal points. Another great piece.